Local News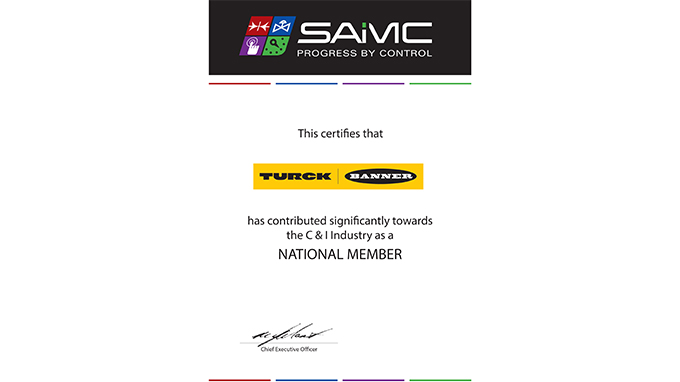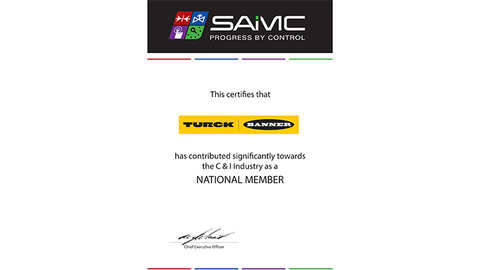 SAIMC Announces Newest National Member
Turck Banner (Pty) Ltd, the South African joint venture company of Hans Turck GmbH and Banner Engineering Corp, is proud to announce its National Membership of the SAIMC (Society for Automation, Instrumentation, Mechatronics and Control). Turck Banner supports the vision and mission of the SAIMC as it strives towards its goal of growing the industry through advancing the standards of theory and practice in the fields of automation. This is achieved through many means as detailed in their company profile.
Another core strength of the SAIMC lies in their affiliations with the Automation Federation, other relevant associations, government bodies (like ECSA), universities, key industry players and exhibition organisers like Reed Exhibitions & Specialised Exhibitions Montgomery.
The principal activities of the SAIMC include transforming the Automation Industry for the 4th Industrial Revolution in Africa. This is done via technical evenings, site visits, working with regulatory-, standards- and educational- bodies to improve the level of Automation education, training and practice.
The strategic objectives of the SAIMC 2023 business plan are:
· Global recognition for the Automation industry, the SAIMC and its members.
· To be able to provide a large database of expertise.
· Act as a catalyst between industry and education – this goal is achieved through facilitating between qualified, learned professionals that contribute productively to the growth of industry, tertiary institutions and the industrial automation market itself.
· Ensure that the Automation & Control Industry's best interests are represented.
· Formal recognition of Automation as a separate engineering discipline by ECSA.
· Keeping members up to date on the latest industry trends and technology.
(More general information can be found at https://saimc.co.za/about-us/.)
At Turck Banner, we are passionate about remaining a customer-oriented premium partner for reliable, industry-specific global automation solutions in sub-Saharan Africa. Turck Banner's philosophy is to offer the best possible application solution to our customers – quickly, flexibly and reliably. We will always proudly honour our heritage since 1984 in the South African market.
It is indeed a privilege to be a member of an organisation with the same passion that we, as Turck Banner, share for the growth and success of our industry.