Multiprotocol Ethernet

What is Multiprotocol?
Turck offers a complete line of industrial Ethernet products, including on-machine, in-cabinet, block, and modular I/O. The multiprotocol technology by Turck is an innovative new approach to Ethernet distributed I/O; multiprotocol I/O devices automatically self-configure to the active fieldbus protocol on each power-up. Supported protocols include Modbus TCP, EtherNet/IP and PROFINET.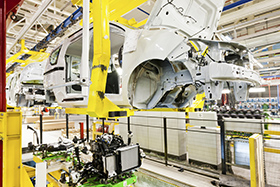 What are the benefits of Industrial Ethernet?
Industrial Ethernet benefits users by utilizing tools and techniques familiar to traditional office communication systems, and extending them to industrial applications. This facilitates data transfer across the entire plant floor - as well as plant-to-plant and globally - via secure network connections.
With Industrial Ethernet remote maintenance can be established easily. Like this on-site service can be reduces to a minimum, what is good for you and your customer.
Multiprotocol: The Easy Way to Industrial Ethernet
Multiprotocol products are simple and intuitive, allowing easy transition between multiple common industrial Ethernet protocols without the need to physically switch parts. An advanced webserver integrated in all Turck multiprotocol devices facilitates simple device configuration and troubleshooting via web-browser. Furthermore, an impressive array of advanced features for each supported protocol has been incorporated into the devices to meet many unique application requirements.
Turck's multiprotocol technology makes moving from one industrial Ethernet protocol to another plug-in simple. Turck's multiprotocol products offer a seamless transition to industrial Ethernet, whichever industrial Ethernet protocol that may be.