TAS – IIoT Service Platform

Configuration and device management
TAS stands for Turck Automation Suite. The IIoT platform enables you to get everything from your Turck device and benefit from a complete solution for updates, device management and smart sensors. Future TAS versions will offer extensive IIoT functions for services such as condition monitoring or edge control on PCs or local servers.
Turck's TAS version V1 simplifies the management and commissioning of Turck devices in Industrial Ethernet networks as well as ARGEE and BEEP applications. The IIoT platform TAS also enables you to carry out thorough feasibility studies for RFID systems.
Network View simplifies device configuration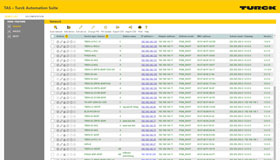 TAS enables you to manage all Turck devices in your production network. The Network scan function finds all available Turck Ethernet devices in the network and displays the relevant device information directly. Network View also enables the issuing of IP addresses and passwords as well as the execution of firmware updates for all devices in the network. The device specific web pages of all Ethernet devices can be accessed directly from TAS.
IO-Link View
This view provides an overview over IO-Link masters in the network as well as connected IO-Link devices
Read device information
Execute device actions like wink, open master in TAS, open IODD configurator, open device monitor
Filtered view on selected IO-Link devices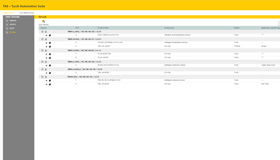 Batch functions for rapid commissioning
Many of the Network View functions can also be performed as batch functions. This allows many devices to be updated and processed at the same time, thus saving a lot of time when commissioning and maintaining large networks – and all this without a PLC or a third-party software. The ability to export device networks in CSV format also simplifies documentation, collaboration and management.
ARGEE View
The ARGEE logic software turns Turck's Ethernet I/O modules into IP67 logic controllers for use directly in the field (Field Logic Controller). This function is unique on the market to date. TAS allows you to load ARGEE programs conveniently on a group of devices in a batch process and manage them centrally.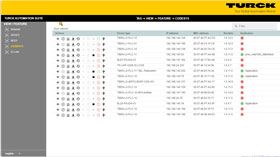 Codesys View allows for management of Codesys installations on several controllers in your networt
Codesys-View
Codesys-View can be used to display almost all Turck controllers with Codesys in the network (in future also for TX devices). The control programmes of the connected devices can be downloaded and saved. Users can also run or stop the programmes via TAS in cold or warm start. The import of programmes on several Turck controllers (restore) also works in batches, which can speed up work with several instances enormously. Codesys user names and passwords can also be used via TAS.
BEEP View
Turck's Backplane Ethernet Extension Protocol "BEEP" helps you to reduce the number of IP addresses required in your industrial network. Up to 32 Turck IO devices can be accessed via the IP address of a BEEP master. TAS manages the configuration of BEEP networks as well as the import and export of BEEP configurations centrally and clearly.
IO-Link apps: using smart sensor functions
Applications (Apps) are TAS functions on the device level that can be run very easily with plug and play without any additional installation required. TAS V1 starts with five apps:
IODD Configurator: IO-Link devices of all manufacturers can be parameterized via the IODD Configurator, which produces a graphical plot display of the IO-Link process data.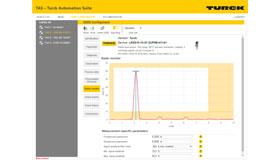 Turck Radar Monitor: like the IODD Configurator, the Radar Monitor provides a graphical display of Turck Radar sensor data. Users can adjust filters, measuring windows and other parameters very easily to their particular application requirements.
RFID apps: UHF demo tools
The IIoT platform provides three UHF demo tools specially for RFID devices in TAS:
Gate Applications simulates the bulk detection of tags in gate applications. The app checks whether all tags have been detected with sufficient certainty. Anyone who has ever had to assess a bulk detection operation manually knows how much time and effort this saves.

Tag Trace enables users to determine the ideal start and stop times for optimum read and write processes in moving applications.
Tag Population reads the read and write performance at different tag positions of a static object. For this, the UHF reader continuously increases its power and indicates the minimum power required to reliably read the tag.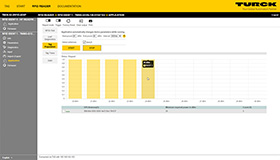 RFID Apps: HF Tag Actions
Various functions are available in the HF frequency band to help with system maintenance or the design of an RFID system.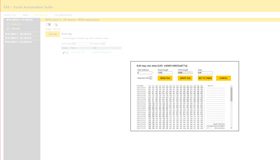 Scan UID of HF data carriers and create a list.
Read tag metadata: Type, memory size and supported features of a data carrier
Read tag memory (hexadecimal, ASCII)
Write data to selected memory areas
Cable Monitor
The Cable Monitor app displays the voltage and current of the M12Plus connectors. This allows fluctuations in current or voltage drops to be recognised at an early stage. The temperature of the connectors is also displayed, which can provide an indication of defects.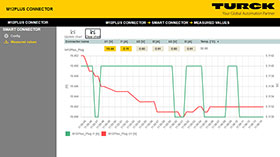 The Cable Monitor displays voltage and current of M12Plus connectors (click to enlarge)