Sustainability

Automation as the enabler of a sustainable industry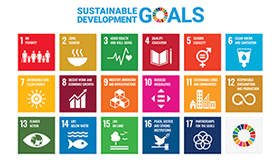 Sustainability as a central challenge for industry
The global community has established a framework for creating a sustainable society with the 17 UN Sustainable Development Goals (SDGs). Business and industry are central players in this process and are actively shaping this role. A CO2-neutral energy supply and the sustainable use of natural resources through to a closed-loop economy are important milestones on this path.
Digitalization and automation
The transformation of energy supply and industry is based on the following pillars of digitization and automation. This requires not only a massive expansion of renewable energies, but also an intelligent coupling of the generation, industrial, mobility and building sectors. Only through the use of networked systems, a digital infrastructure and automation is this intelligent coupling possible. Of course, the digital infrastructure itself also contributes to energy consumption, but the positive effects clearly outweigh the negative effects, as studies show, including the bitkom study "Climate effects of digitization".
Automation enables energy efficiency
The transformation of the energy system depends on automation technology. A fully climate-neutral energy supply for future growth in the economy and production can only succeed if efficiency is increased so that primary energy requirements are reduced. This increase in efficiency is achieved through the intelligent control of energy flows and energy requirements.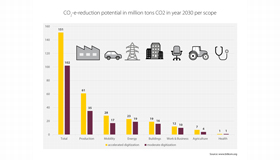 Automation has always been focused on increasing efficiencies. The main purpose of this has so far been to achieve higher outputs and shorter production times. Increased energy efficiency and a reduction of negative impacts on the environment are now equally important goals. Practical examples of this development are automation solutions that reduce idle plant, unnecessary lighting, building heating or empty runs in logistics by improving planning with the help of goods tracking and sensor data.
Automation enables good work
A sustainable and livable future also requires good work. UN Sustainable Development Goal SDG 8 explicitly calls for this. The fact that automation could endanger jobs is cited time and again. However, if we look at the technological progress of the last 150 years and the current development in many emerging countries, it becomes clear that automation relieves people of simple manual tasks. On the other hand, jobs with higher educational requirements have always been created. Automation frees many people from dangerous, unhealthy or monotonous tasks. It thus creates higher-quality education (SDG 4),in order to be able to perform fulfilling, qualified and thus also better-paid jobs.